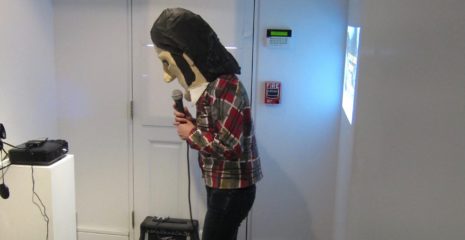 May 20, 12:30 PM–3:30 PM
Ryann Slauson will perform "Only the Lonely" Wednesday, May 20th from 12:30 – 3:30 pm. The performance is programming for the current exhibition "It's gonna take a lotta love," curated by Terri C. Smith and Liza Statton. The performance will take place downstairs at Franklin Street Works during regular business hours, creating a unique lunchtime experience for cafe and gallery goers. This performance is free and open to the public.
"Only the Lonely," a karaoke endurance piece, imagines Slauson as Neil Young singing a classic song by one of his most admired musicians, Roy Orbison. The piece engages with the effects of repetition and its transformative power over objects and experiences, as well as performed identities, attempts at perfection, and appropriations of collective culture. Each iteration of the karaoke performance will be recorded through the use of a VCR, lending an archaic and fuzzy aesthetic to the byproducts of the performance.
The use of music in and the lo fi quality of "Only the Lonely" aligned so closely with the exhibition "It's gonna take a lotta love" curator Terri C Smith invited Slauson to perform it after the show was already on view. "It's gonna take a lotta love" is a group exhibition where the artists avoid the detachment and slick seduction of the screen-based technologies that characterize our attention economy. These artists also share a type of tragic-comic vision of contemporary culture. Humor, joy, and melancholy, among others, mix easily in their work. Such emotional credibility creates a slippage between empathy and alienation. Exhibiting Artists: Jon Campbell (Melbourne, Australia), Andy Coolquitt (Austin/NYC), Jeremy Deller (London), Jessica Mein (NYC), A.L. Steiner + Robbinschilds (NYC), Whiting Tennis (Seattle), Stephen Vitiello (Richmond, VA), and Wayne White (LA).
Ryann Slauson received her BFA in Sculpture and Extended Media from the University of South Florida in 2010, and is currently completing her MFA in Studio Art and MA in Modern and Contemporary Art, Theory, and Criticism at Purchase College. She received the PUNCH Choice Award at the "2014 International Juried Exhibition" at PUNCH Gallery, Seattle, WA; and was included in "Marking Time" at Adam Baumgold Gallery, NYC; "Seeing the Sky," the 2014 Wassaic Summer Exhibition, Wassaic, NY; and "The Wanderers" at Trestle Projects, Brooklyn, NY.