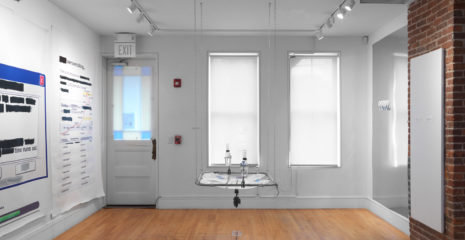 November 2, 12:30 PM–1:00 PM
Join our creative director for a free, public lunchtime tour of False Flag: The Space Between Paranoia and Reason on November 2 from 12:30 – 1:00.
The group exhibition investigates the continuum of paranoia, as subject matter, philosophical position, and psychological state. Videos, sculptures, paintings, and photographs utilize paranoia as a visual representation and a means of production. The works and the way they are installed produce a kind of looping paranoid state of multiple voices, perspectives, and possibilities, leaving the viewer to establish their own position within this continuum. Exhibiting artists: Darja Bajagić, James Benning, Theodore Darst, Violet Dennison, Michael Green, Mark Flood, Juliana Huxtable,  Harry Dodge and Stanya Kahn, Daniel Keller, Son Kit, Tim Trantenroth, and Melvin Way.
The exhibition is curated by New Haven based artist Jeff Ostergren and is on view from September 22, 2018 – January 6, 2019. There will also be a free, public reception for the show with artist and curator walkthrough on Saturday November 3 from 5-8pm.