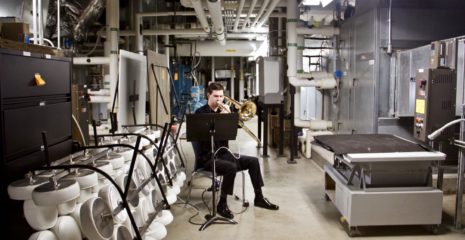 March 9, 4:00 PM–6:00 PM
Brian House and Sue Huang of the internationally exhibiting media arts collaborative Knifeandfork will be at Franklin Street Works on Saturday, March 9 from 4-6pm for "Knifeandfork: Brian House and Sue Huang in Conversation." In an hour-long dialogue, House and Huang will draw upon 14 years of a collaborative practice in a conversation about clocks, Astro-Turf, Rashomon, audience, architecture, 200 golf clubs, clouds, sound, histories, drawing and drumming, European grants, and how what goes around goes around again. The conversation will be followed by an audience Q & A and a wine reception. This free, public event is sponsored in part by the Stamford Community Arts Partnership Program (CAPP) Grant .
"Knifeandfork: Brian House and Sue Huang in Conversation" is exhibition programming for Franklin Street Works group exhibition "Collective Action Archive: Redux," which includes materials from Knifeandfork. The show is the newest addition to the non-profit contemporary art space's ongoing exploration of intersections between art and activism, featuring materials from more than 30 U.S. artist/activist collectives. It is on view from February 9 – September 8, 2019.
Since 2004, House and Huang have worked together as the media arts collaborative Knifeandfork. The collaborative has exhibited at MOCA, Los Angeles; the Contemporary Arts Center, Cincinnati; Rhizome at the New Museum, New York; the Beall Center for Art + Technology, Irvine; and Kulturhuset, Stockholm, among others. House holds a PhD in computer music and multimedia from Brown University, and he is currently a Mellon Associate Research Scholar at Columbia GSAPP's Center for Spatial Research. Huang is currently an Assistant Professor of Digital Media and Design at the University of Connecticut and holds an MFA in media arts from UCLA.