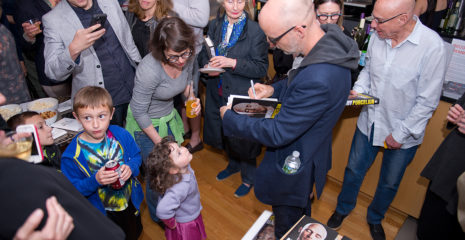 May 21, 6:30 PM–8:30 PM
On Saturday, May 21, 6:30 – 8:30 pm, Franklin Street Works will host a Moby book signing and cocktail party in collaboration with Barrett Bookstore (Darien). Moby will speak briefly about and sign copies of his new book Porcelain: A Memoir. Tickets include book purchase and range from $37.92 – $53.74. Click HERE for more on the event and to purchase your ticket.
From one of the most interesting and iconic musicians of our time, a piercingly tender, funny, and harrowing account of the path from suburban poverty and alienation to a life of beauty, squalor and unlikely success out of the NYC club scene of the late '80s and '90s. There were many reasons Moby was never going to make it as a DJ and musician in the New York club scene. This was the New York of Palladium; of Mars, Limelight, and Twilo; of unchecked, drug-fueled hedonism in pumping clubs where dance music was still largely underground, popular chiefly among working-class African Americans and Latinos. And then there was Moby—not just a poor, skinny white kid from Connecticut, but a devout Christian, a vegan, and a teetotaler. He would learn what it was to be spat on, to live on almost nothing. But it was perhaps the last good time for an artist to live on nothing in New York City: the age of AIDS and crack but also of a defiantly festive cultural underworld. Not without drama, he found his way.
But success was not uncomplicated; it led to wretched, if in hindsight sometimes hilarious, excess and proved all too fleeting. And so by the end of the decade, Moby contemplated an end in his career and elsewhere in his life, and put that emotion into what he assumed would be his swan song, his good-bye to all that, the album that would in fact be the beginning of an astonishing new phase: the multimillion-selling Play. At once bighearted and remorseless in its excavation of a lost world, Porcelain is both a chronicle of a city and a time and a deeply intimate exploration of finding one's place during the most gloriously anxious period in life, when you're on your own, betting on yourself, but have no idea how the story ends, and so you live with the honest dread that you're one false step from being thrown out on your face. Moby's voice resonates with honesty, wit, and, above all, an unshakable passion for his music that steered him through some very rough seas.Porcelain is about making it, losing it, loving it, and hating it. It's about finding your people, your place, thinking you've lost them both, and then, somehow, when you think it's over, from a place of well-earned despair, creating a masterpiece. As a portrait of the young artist, Porcelain is a masterpiece in its own right, fit for the short shelf of musicians' memoirs that capture not just a scene but an age, and something timeless about the human condition. Push play. (Penguin Press)
ABOUT BARRETT BOOKSTORE
Barrett Bookstore opened in Stamford in1939. Although in different locations it has been in continuous business since then. Now located in Noroton Heights Shopping Center, just off  Exit 10 of I95 and across the road from the Metro-North train station, we are the oldest independent bookstore in Fairfield County. We carry a hand selected inventory representing a wide variety of genres both fiction and non-fiction.We have a large children's department and also carry many lines of greeting cards and stationery items. We are proud to host events with authors both at the bookstore and in the community.