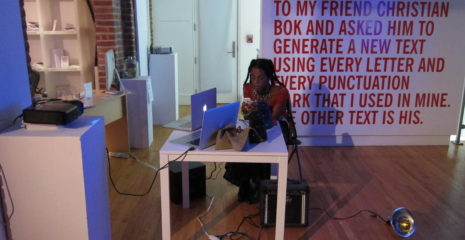 March 1, 5:30 PM–7:30 PM
On Saturday, March 1 from 5:30 – 7:30, please join us for a performative reading by Juliana Huxtable, one of the exhibiting artists in "Neuromast: Certain Uncertainty and Contemporary Art".
Juliana Huxtable and a number of her NYC contemporaries will be reading and performing a diverse body of work that highlight new voices in New York's growing underground. Themes of the body, technology and identity will be explored. Juliana Huxtable is a writer, artist and DJ based in New York City. She creates and speaks from the positions of cyborg, priestess, witch, and trans girl. Her writing has appeared or been referenced in ArtForum, Mousse, and Maker Magazine. She has read and performed at New York City venues such as Envoy Enterprises, Brooklyn Academy of Music and Artists Space. For more on Juliana Huxtable, check out this INTERVIEW.