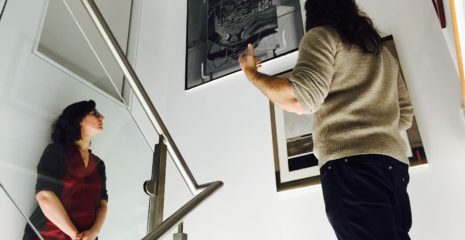 November 8, 4:00 PM–7:00 PM
For the closing weekend of "It Narratives: The Movement of Objects as Information" Franklin Street Works will host a curator led tour of the show with Brian Droitcour and Zanna Gilbert as well as a festive inauguration of the space's new mailbox, which was created by artist Lukas Geronimas. The event is free and open to the public and takes place at Franklin Street Works Saturday, November 8th from 4:00 – 7:00pm
Curator and critic Brian Droitcour and curator and researcher Zanna Gilbert will share their thinking behind the show It Narratives: How Objects Move as Information, which considers how the Internet and traditional post intersect in contemporary art. They will also discuss works on view  during a casual walkthrough of the galleries. After the tour, the curators, Franklin Street Works staff and the exhibiting artists on hand will inaugurate Franklin Street Works' new mailbox. A work of art commissioned for this exhibition, "The Custom Postbox" is a functioning, glowing mailbox made by Brooklyn sculptor Lukas Geronimas. Artist David Horvitz will also be on site to inform visitors about his "It Narratives" project "Mail Art Call @ Franklin Street Works," which is an open mail art call that received 580 responses from across the globe.
The artists in It Narratives find forms for everyday experiences of distance and time by reflecting on the way objects move through information networks. It Narratives is on view through November 9th at Franklin Street Works. Artists include: Greg Allen, Tyler
Coburn, Tim Devin, Yevgeniy Fiks, Lukas Geronimas, Frank Heath, David Horvitz, Jean Keller, Alexandra Lerman, Kristin Lucas, Cat Mazza, Kristina Lee Podesva and Alan McConchie, Paul Soulellis, Emily Spivack, The Thread, Ehren Tool, Print All Over Me, Forms of Melancholy, Lance Wakeling, Roberto Winter.
Brian Droitcour is a writer, translator, curator, critic, and a PhD candidate in comparative literature at New York University. Previous exhibition projects include "BFFA3AE – DTR" at 47 Canal in New York and "Big Reality" at 319 Scholes in Brooklyn. He has contributed reviews and essays to Artforum, Art in America, and Rhizome, among other publications. He has been yelping since January 2012 and his account was awarded Elite status last year. His web site fifteenstars.com, a collection of found Yelp reviews with commissioned illustrations and an accompanying essay, was featured as part of the New Museum's First Look series of online exhibitions in October 2013. Among other projects, Brian is currently editing Klaus_ebooks, a series of artists' ebooks published by Klaus von Nichtssagend Gallery.
Zanna Gilbert is a postdoctoral fellow at The Museum of Modern Art (MoMA) in New York and she holds a PhD from the University of Essex and Tate Research in the UK. Her research focuses on artists' networks and the transnational circulation of art through the mail. She curated the exhibitions "Felipe Ehrenberg: Works from the Tate Archive" (2009), "Intimate Bureaucracies: Art and the Mail" (2011), "Contested Games: Mexico 68's Design Revolution" (2012), "Daniel Santiago: Brazil is my Abyss" (MAMAM, Recife, 2012; MAC-Niteroi, Rio, 2014) and "Edgardo Antonio Vigo: The Unmaker of Objects" (MoMA, 2014). She has taught postgraduate courses at the University of Essex, UK and the National Autonomous University of Mexico (UNAM).
Lukas Geronimas was born in Toronto, Ontario. He received a Bachelor of Commerce from the University of British Columbia, and an MFA from the Milton Avery School at Bard College. His art is about manufacturing openings. It is also about value, in that an artwork should be created to live within the studio, the exhibition, and the collection; with each context comes a separate evaluation, and Lukas thinks an artwork is most meaningful when it is responsible for them all. Lukas currently lives and works in Brooklyn, New York.
David Horvitz was born in California in 1982 and lives in Brooklyn, NY. Recent solo exhibitions include: concurrent shows at Jan Mot, Brussels, and Dawid Radziszewski Gallery, Warsaw; Peter Amby, Copenhagen; Statements, Art Basel; Kunsthal Charlottenborg, Copenhagen; and Chert, Berlin. His work has been shown at EVA International 2014, Glasgow International 2014, LIAF 2013, MoMA, The Kitchen, and the New Museum. In New York, he has realized projects with Recess, Clocktower Gallery, post at MoMA, Printed Matter, Rhizome, and Triple Canopy.