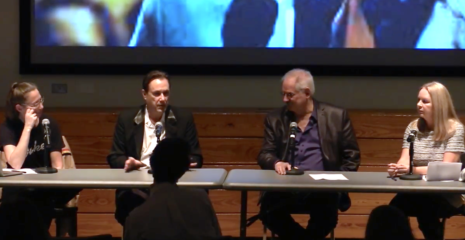 June 9, 12:00 PM–1:00 PM
Franklin Street Works is partnered with The Ferguson Library to present a panel discussion with renowned composer Mikel Rouse, internationally recognized composer/writer Kyle Gann, and award-winning television producer Barbara Alfano White.
CHECK OUT VIDEO DOCUMENTATION OF THE PANEL
We discussed Rouse's avant-garde opera, "Dennis Cleveland," which was first performed at The Kitchen in New York City in 1996 and is based on the structure of daytime TV talk shows, at a panel discussion on Thursday, Nov. 16. The event was held at The Ferguson Library, 96 Broad Street, Stamford. The panel was a free, educational program for "I hear it everywhere I go," as group exhibition curated by Terri C Smith that included video documentation of  "Dennis Cleveland" at Lincoln Center in 2002.
Rouse is a New York-based composer, director, performer and recording artist hailed as "a composer many believe to be the best of his generation,"  according to The New York Times. Rouse's "Dennis Cleveland" is an opera based on the dynamics of daytime TV talk shows, lending the panel discussion a sense of site-specific kismet: Stamford is where NBC Universal films Maury, The Jerry Springer Show, and The Steve Wilkos Show.  With Rouse's opera the platform of a daytime TV show becomes the stage for inquiry into interpersonal boundaries, cultural consumption, and monetary successes, ultimately offering  what Rouse describes as "the promise of salvation through popular culture." Gann, who, in addition to being a composer, is widely published, said in The New York Times,"'Dennis Cleveland' is a depiction of an unreal world: it's an opera in the form of a talk show, and don't let the word 'opera' fool you, because there's a rock beat throughout. Mr. Rouse himself plays the suave host, Dennis Cleveland: part television Buddha, part snake-oil salesman, part tortured soul."