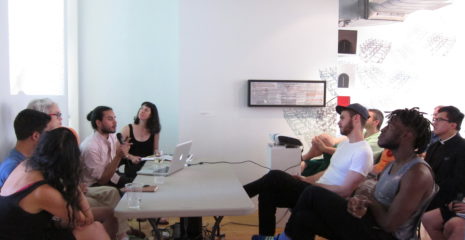 July 11, 5:00 PM–
Franklin Street Works is proud to present a panel discussion in conjunction with the current exhibition, "Acting on Dreams: The State of Immigrant Rights, Conditions, and Advocacy in the United States," The exhibition, which is curated by Yaelle S. Amir, is on view through August 30.  This free, public panel takes place at Franklin Street Works on Saturday, July 11th at 5:00pm.
In line with the work included in the exhibition, the panel discussion will present creative responses to immigrant rights and conditions in the United States. Panel discussion speakers include curator Yaelle S. Amir; exhibiting artists Camilo Godoy, Marisa Jahn, and Jenny Polak; and Coordinating Committee Member of Connecticut Students for a Dream, Danilo Machado. Facilitated by the exhibition's curator, three of the artists – Camilo Godoy, Marisa Morán Jahn, and Jenny Polak – will discuss the motivations, process, and aims of their projects, and Danilo Machado will present his work with the organization Connecticut Students for a Dream. Using these projects as a platform, the discussion will also focus more generally on creative tactics in advocacy work, the nature of community collaboration, the complex nature of activist initiatives, and more.
This exhibition is sponsored, in part, by Fairfield County's Community Foundation and the Mertz Gilmore Foundation.
ABOUT THE PANELISTS
Yaelle Amir (b. Haifa, Israel) is an independent curator and researcher. She currently holds the position of Curator at Newspace Center for Photography in Portland, OR. Amir's writing and curatorial projects focus primarily on artists whose practices supplement the initiatives of existing social movements—rendering themes within those struggles in ways that both interrogate and promote these issues to a wider audience. She has curated exhibitions at Artists Space, CUE Art Foundation, Center for Book Arts, ISE Cultural Foundation, The Elizabeth Foundation for the Arts, Marginal Utility, and the Wallach Art Gallery at Columbia University, among others.
Camilo Godoy was born in Bogotá, Colombia and currently lives in New York. He received a BFA from Parsons The New School for Design in 2012 and a BA from Eugene Lang College The New School for Liberal Arts in 2013. From 2012-2013 he was the Public Engagement Coordinator at Immigrant Movement International, a long-term project initiated by artist Tania Bruguera in Queens, New York. He has been involved with migrant rights groups since 2010 and has focused his advocacy in opposing detention and deportation practices. Godoy was a 2012-2013 Queer Art Mentorship fellow; a 2014 EMERGENYC fellow at The Hemispheric Institute of Performance and Politics at NYU; a 2014-2015 Keyholder Resident at the Lower East Side Printshop; and is currently a 2015 Movement Research Artist-in-Residence. Godoy's work has been presented at venues such as La Mama Galleria, New York; Queens Museum, New York; Donaufestival, Krems; and Mousonturm, Frankfurt, among others.
Marisa Jahn is an artist, multimedia designer, educator, and the founder of Studio REV-, a nonprofit studio whose public art projects combine creativity, bold ideas, and sound research to impact the lives of low-wage workers, immigrants, women, and youth. A graduate of UC Berkeley and MIT, Jahn has recieved numerous awards and distinctions including a CEC Artslink Fellow; a 2007-9 artist in residence at MIT's Media Lab; and a 2013 MIT Open Doc Fellow. Jahn and Studio REV- have received several grants including The Rockefeller Foundation Cultural Innovation Fund, apexart's Franchise Art award, Open Society Foundation, and Tribeca New Media Fund grant for interactive media. She is also an Advisor of NuLawLab, a design+law initiative of Northeastern University's School of Law. Through collaborations with communities and organizational hosts, Jahn's work function doubly as art and tool through public participation in the creation of new narratives and myths.  
Danilo Machado (b. Medellín, Colombia) is currently an undergraduate at the University of Connecticut-Stamford, studying English and Women's, Gender, and Sexuality Studies and serves as a member of the Coordinating Committee of Connecticut Students for a Dream, a statewide network of undocumented youth and allies. He is passionate about intersectional organizing and political education, particularly around queer and undocumented identities. He has conducted numerous trainings and workshops, as well as written reports and Op-Eds on the intersections of these very personal identities, including publications in The Advocate and The Hartford Courant. Besides social justice work, Danilo is passionate about poetry, design, and having one more cup of coffee.
Jenny Polak (b. ) is an artist whose work simulates ways for people to survive hostile authorities. Polak's family history of hiding and migration fuels her preoccupation with negotiations in the dangerous spaces of transition. She records and invents citizen/non-citizen collaborations and accommodations, often using the languages of architecture and design to reposition emergencies as part of the everyday. Coming from a background in both art and architecture, Polak's projects are often site/community responsive; these include site-specific projects at the Griffiths International Sculpture Garden, Rome, NY; Exit Art, NYC; The Rotunda Gallery, Brooklyn; and Soap Factory, Minneapolis, MN. Her work has been discussed in books and publications including The New York Times, The Newark Star-Ledger, The Guardian (UK), Brooklyn Rail, and Bad at Sports.