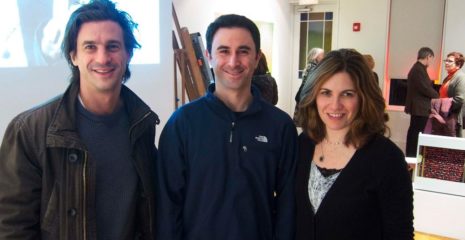 January 14, 6:30 PM–9:30 PM
The documentary "ART AND CRAFT," which is about prolific art forger Mark Landis and is on the Oscar Short List, will screen at Stamford's Avon Theatre, January 14 at 7:30 pm. Before the screening Franklin Street Works will host a free public cocktail reception with the directors at our space from 6:30 until 7:20. After the 7:30 screening at the Avon, there will be a Post-film Q&A with filmmakers Jennifer Grausman & Sam Cullman. The Franklin Street Works pre-screening reception is free, and movie ticket prices at the avon are as follows: Avon Carte Blanche Members: FREE, (Franklin Street Works and Avon) Members: $6, Students & Seniors: $8, Nonmembers: $11.
Tickets can be purchased online at www.avontheatre.org, at the Avon business office (203-661-0321), the box office (203-967-3660, x2), or at the door. The Avon is located walking distance from Franklin Street Works at 272 Bedford Street, Stamford, CT.
Mark Landis has been called one of the most prolific art forgers in US history. His impressive body of work spans thirty years, covering a wide range of painting styles and periods that includes 15th Century Icons, Picasso, and even Walt Disney. And while the copies could fetch impressive sums on the open market, Landis isn't in it for money. Posing as a philanthropic donor, a grieving executor of a family member's will, and most recently as a Jesuit priest, Landis has given away hundreds of works over the years to a staggering list of institutions across the United States. But after duping Matthew Leininger, a tenacious registrar who ultimately discovers the decades-long ruse and sets out to expose his philanthropic escapades to the art world, Landis must confront his own legacy and a chorus of museum professionals clamoring for him to stop.
ART AND CRAFT starts out as a cat-and-mouse art caper, rooted in questions of authorship and authenticity—but what emerges is an intimate story of obsession and the universal need for community, appreciation, and purpose.
In English | Not Rated | 89 minutes
Sam Cullman • Director/ Producer/ Cinematographer – Sam Cullman is a cinematographer, producer and director of documentaries. He partnered with director Marshall Curry to co-direct, shoot and produce IF A TREE FALLS (2011) which won the U.S. Documentary Editing Award at the 2011 Sundance Film Festival and later received an Academy Award® nomination for Best Documentary Feature. More recently, Cullman produced and shot the Peabody and Sundance Grand Jury prize-winning THE HOUSE I LIVE IN (2012), directed by Eugene Jarecki. His latest film, ART AND CRAFT (2014), which Cullman shot, produced and directed with Jennifer Grausman premiered at the 2014 Tribeca Film Festival and was picked up by Oscilloscope Laboratories for theatrical distribution. In addition to his camerawork on his own films, Cullman's cinematography has also appeared in dozens of other documentaries including WATCHERS OF THE SKY (2014), REAGAN (2011), and KING CORN (2006). A graduate of Brown University (1999) with Honors in Visual Art and a second major in Urban Studies, Cullman currently lives and works in Brooklyn, New York.
Jennifer Grausman • Director/ Producer – Jennifer Grausman recently completed directing and producing the feature documentary ART AND CRAFT, which premiered at the 2014 Tribeca Film Festival and was picked up by Oscilloscope Laboratories for theatrical distribution. She also directed and produced the Emmy-nominated feature documentary, PRESSURE COOKER (2008). The film garnered awards from festivals across the country including a Special Jury Commendation at the 2008 Los Angeles Film Festival. Grausman also co-produced Eric Mendelsohn's feature, 3 BACKYARDS (2009), which won Best Director at the 2010 Sundance Film Festival. Previously, she produced six short films, including Suzi Yoonessi's DEAR LEMON LIMA (2007), and Joan Stein's SOLIDARITY (2005). In addition to making films, Grausman was Co-Director of The Screenwriters Colony in Nantucket, MA from 2010 to 2012. A graduate of the MFA film program at Columbia University, Grausman was honored with the 2005 Best Producer Award. Prior to graduate school, she was the Manager of Exhibition and Film Funding at The Museum of Modern Art.Z She earned her BFA in Art History at Duke University.
ABOUT THE AVON
The Avon Theatre is a member-supported, non-profit cultural hub, dedicated to presenting film in its highest form, and thriving because of the support of our patrons and community. In addition to an exciting slate of new releases, The Avon brings you one-of-a-kind special events and monthly programs. We are proud to provide a forum for in-person, community dialogue with directors, actors and other luminaries in a vibrant "Main Street America" setting.