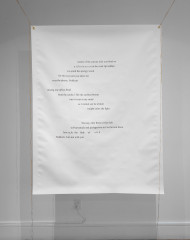 April 21, 3:30 PM–5:00 PM
Join "In this place where the guest rests" curator Jacqueline Mabey for a free, public reading group that will explore the text-based work of exhibiting artist Tanya Lukin Linklater. This casual group will meet at the Franklin Street Works' cozy cafe on April 21 from 3:30 – 5:00 pm to discuss Linklater's work and form a deeper understanding of "Slow Scrape" (2013-16), three text banners that are on view as part of our current group exhibition, "In this place where the guest rests."  Snacks, beer, wine, coffee and more will be available for sale at the cafe. Please RSVP HERE.
Jacqueline Mabey's work is shaped by studies at Wilfrid Laurier University, McGill University and The University of British Columbia and by multifarious professional experience in commercial galleries, museums and artist studios. Mabey is a co-founder of Art+Feminism, an international, activist curatorial platform based out of The Museum of Modern Art, New York, with satellites at the Los Angeles County Museum of Art; Tate, London; Banff Center for the Arts; MAXXI, Rome; Archives nationales de France, Paris; Smithsonian American Art Museum, Washington, DC; MoCA Detroit, amongst many others. They have curated the work of artists including Yael Bartana, Hannah Black, Kate Gilmore, Brendan Fernandes, Ken Gonzales-Day, Jen Liu, Tanya Lukin Linklater, Jumana Manna, Divya Mehra, Lorraine O'Grady, and Addie Wagenknecht, and spoken about their work at venues such as Cornell University, The New School, Printed Matter, and Columbia University. They were named a Leading Global Thinker by Foreign Policy magazine and a Badass Woman by Buzzfeed. Mabey works independently under the honorific, failed projects. They were born in New Jersey, raised in Nova Scotia, and currently live with a small dog by a large park in Brooklyn. Learn more about Jacqueline HERE.
Tanya Lukin Linklater's performances in museums, videos, and installations have been exhibited in Canada and abroad. Her work centers Indigenous knowledge production in and through orality, conversation and embodied practices, including dance. She considers That which sustains us a conceptual line within her work, alongside histories and structural violence that Indigenous peoples continue to respond to.
Her work has been exhibited and performed at EFA Project Space + Performa, New York City, Art Gallery of Ontario, Toronto, Museum of Contemporary Art Santiago, Chilé, Western Front, Vancouver, Images Festival + Museum of Contemporary Canadian Art, Toronto, Remai Modern, Saskatoon, Art Gallery of Alberta, Edmonton, Art Museum, Toronto, and elsewhere. In 2017, as a member of Wood Land School, she participated in Kahatenhstánion tsi na'tetiatere ne Iotohrkó:wa tánon Iotohrha / Drawing Lines from January to December in Montréal. Wood Land School participated in Under the Mango Tree – Sites of Learning, a gathering for documenta14 in Kassel.
Tanya's poetry and essays have been published in C Magazine, BlackFlash Magazine, Yellow Medicine Review, Inuit Art Quarterly, Taos International Journal of Poetry and Art, Drunken Boat, Ice Floe, and in publications by Whitney Museum of American Art Independent Study Program, Kitchener Waterloo Art Gallery, Access Gallery, Western Front, and McLaren Art Centre. Tanya studied at University of Alberta (M.Ed.) and Stanford University (A.B. Honours) where she received the Mellon Mays Undergraduate Fellowship and the Louis Sudler Prize for Creative and Performing Arts. She was awarded the Chalmers Professional Development Grant in 2010 and the K.M. Hunter Artist Award in Literature in 2013. She originates from the Native Villages of Afognak and Port Lions in southern Alaska and is based in northern Ontario, Canada. Learn more: 
http://www.tanyalukinlinklater.com