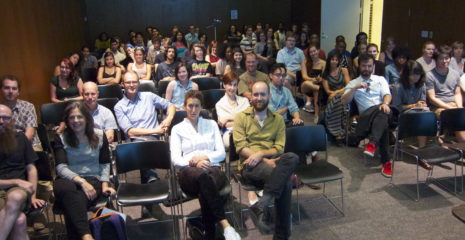 September 11, 4:00 PM–6:00 PM
A reception for the exhibition "Collective Action Archive" will take place at Purchase College's Passage Gallery gallery on Wednesday, September 11, from 4:00 – 6:00 pm, followed by a symposium at the Neuberger Museum of Art Study (also on Purchase campus) of Purchase College from 6:00 – 8:00 pm. Both events are free and open to the public. The symposium will include author, artist, and activist Gregory Sholette; along with Lise Soskolne from Working Artists and the Greater Economy (W.A.G.E.); and Brian House of the Knifeandfork collective.
The New Media program at Purchase College, SUNY and Franklin Street Works, a contemporary art space in Stamford, CT, organized this group exhibition, which is on view at Purchase College's The Passage Gallery, beginning September 6. Curated and coordinated by Purchase College faculty and students along with the Franklin Street Works team, the exhibition kicks off the 2013 season at the school's student gallery. The show features ephemera, documentation, and publications that include photos, videos, zines, and books from more than 30 artist collectives from across the U.S., including Chicago, New York, Pittsburgh, Winston-Salem, and San Francisco. "Collective Action Archive" will be on view from September 6 – 29, 2013.