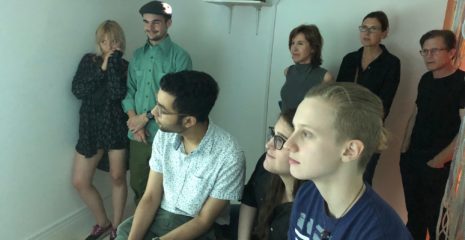 September 9, 12:00 PM–5:00 PM
Do you have a group of friends, colleagues or fellow volunteers who like to learn about new topics or go more deeply into social themes or contemporary art? If you enjoy art tours, Franklin Street Works' creative director, Terri C Smith, can show you around our current show, "My Vicious Throbbing Heart: Animating Desire in Abstract Painting." To schedule a free tour, email info@franklinstreetworks.org or drop by the space between noon and 5:00.
My Vicious Throbbing Heart: Animating Desire in Abstract Painting," Curated by Risa Puleo, investigates the intersection of abstraction and animism as emphasized by certain formal qualities — goopy, sticky, ooey-gooey or otherwise materially luscious surfaces — in combination with aspects of pattern and repetitions such as flutter, throbbing, palpitation, pulsating, and orgiastic rhythms.  Featuring a diverse selection of queer artists working in abstraction, "My Vicious Throbbing Heart"  will be on view May 26 through September 9, 2018. This exhibition is sponsored in part by The Andy Warhol Foundation for the Visual Arts and New Canaan Community Foundation. In-kind sponsors are Purdue Pharma LP and Courtyard by Marriott Stamford Downtown.
In "My Vicious Throbbing Heart," paintings by Claire Arctander & Latham Zearfoss, Anna Betbeze, Leidy Churchman, Anne Cousineau, Keltie Ferris, Matt Morris, Carrie Moyer, Lisi Raskin, Sigrid Sandstrӧm, Laurel Sparks, and Molly Zuckerman-Hartung take the forms of videos, installations of colored fabric and potpourri, a rope and rock assemblage, alchemical experiments on canvas and the gallery floor, and charred and dyed fur. The artists luxuriate in materiality while challenging the medium-specificity of painting.
"I've been thinking about abstraction alongside many of the artists in the exhibition for many years, specifically the idea of what 'queer abstraction' is and can be," Puleo says. "While everyone involved in this exhibition is queer, I'm more interested in 'queer' as a verb than a noun or identity category, and the possibilities that 'queering' as an action present to painting as a medium and abstraction as a genre."
"This exhibition is an important one for Franklin Street Works as it explores themes around queerness from a new point of view and showcases a different type of materiality than any of our past, LGBTQ+ or gender themed exhibitions," Terri C Smith, Franklin Street Works creative director, says "Guest curator Risa Puleo savvily examines these intersections of queerness and abstract painting, including its histories, its current schools of thought, and some of the social themes and technologies that influence abstract painting."