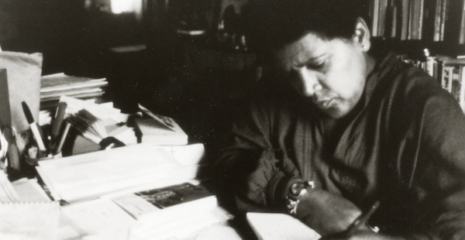 August 16, 6:00 PM–8:00 PM
Franklin Street Works, in partnership with The Ferguson Library's South End Branch, is screening the documentary A Litany for Survival: The Life and Work of Audre Lorde on Wednesday, August 16th from 6:00 – 7:15 pm at The Ferguson Library's South End Branch. The audience will be joined by UCONN professors Morgne Cramer and Grégory Pierrot, who are knowledgeable about Lorde's work. They will introduce the film and lead a post-screening Q&A from 7:15 – 8:00 pm. The evening will end with a reading of several Audre Lorde poems performed by actress and UConn-Stamford alum Ashley Mondestin.
The screening is part of the educational programming for our current exhibition "The Work of Love, The Queer of Labor," and one component in a commissioned art project for that show by the Swedish artist collective YES! Association / Föreningen JA! Their site-specific work, "A New Spelling of a Street: A Tribute to Audre Lorde," aims to honor Lorde, who described herself as a "black, lesbian, feminist, warrior, poet, and mother." In the 1950s Lorde worked at Keystone Electronics, located at One Dock St. in the South End of Stamford, where she also met her first girlfriend. YES! Association / Föreningen JA!'s project includes a request to change the name of Dock St. to Audre Lorde St. in honor of this important American figure. This program is designed to inform the community in South End Stamford and beyond about Lorde's life, work, and history in Stamford, Connecticut.
The creators of A Litany of Survival, Ada Griffin and Michelle Parkerson, collaborated closely with Lorde during the last eight years of her life in an effort to create a rich, full-bodied portrait of Lorde worthy of her vital and lasting legacy. After premiering at the Sundance Film Festival in 1995, Litany went on to win major awards at the San Francisco International Film Festival, Creteil Film de Femmes International Film Festival, the Los Angeles Gay and Lesbian Film Festival, and the Black Filmmakers Hall of Fame.
You can watch the trailer HERE, or read an article written on the film by creator Ada Griffin in Bomb Magazine HERE.
The South End Branch Library is located at 34 Woodland Avenue, Stamford, CT 06902. Questions? Email info@franklinstreetworks.org.