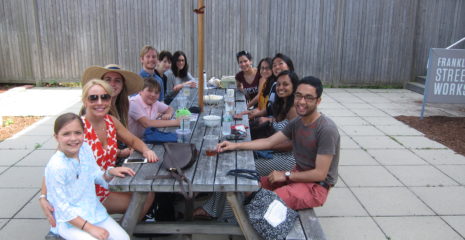 May 17, 4:00 PM–6:00 PM
Franklin Street Works is excited to present a collaborative storytelling event called "Show and Tell: Fandom" that is being organized with local storytelling organization, Ignite Stamford. The event is free and open to the public and takes place at Franklin Street Works Sunday, May 17th from 4-6pm. You do not have to participate to attend. Everyone is welcome! To sign up, email info@franklinstreetworks.org or drop by Franklin Street Works.
The theme of this event will be fandom, inspired by the video "Our Hobby is Depeche Mode," a Jeremy Deller (with Nick Abrahams) film currently on view in the group exhibition "It's gonna take a lotta love." The feature-length video documents fans of Depeche Mode from all over the world.
To sign up, email info@franklinstreetworks.org or drop by Franklin Street Works. Deadline for signing up is 5:00pm on May 15th. Anyone can sign up for the event to tell a 2-3 minute story about a moment in their life when they were a big fan and showed it. Participants are also encouraged to "show" their fandom by bringing an item representative of their obsession, whether it's a binder full of baseball cards or an autographed concert ticket stub.
"It's gonna take a lotta love" is a group exhibition that explores ideas about inclusivity, authenticity, and commonality in an age of anxiety, isolated individualism, and virtually lived experience. It is on view through May 24 and includes Australian artist Jon Campbell's outdoor public art project "Four Letter Words For Stamford," which features affirmative words on flags and banners around town. The artists in this group show are: Jon Campbell (Melbourne, Australia), Andy Coolquitt (Austin/NYC), Jeremy Deller (London), Jessica Mein (NYC), A.L. Steiner + Robbinschilds (NYC), Whiting Tennis (Seattle), Stephen Vitiello (Richmond, VA), and Wayne White (LA).
Jeremy Deller is a Tate Prize winning conceptual artist based in London. Frequently working in collaboration with other artists, individuals, and collectives, Deller employs documentary video, installation, and staged situations to explore British culture—its contradictory nature in a post-industrial, capitalist society—and the role art plays in forming collective interactions and activist positions. "Our Hobby is Depeche Mode" maps the obsession that fans from all over the world have with the band, and the underlying political (and at times religious) symbolism that the band evokes in the lives of its followers.