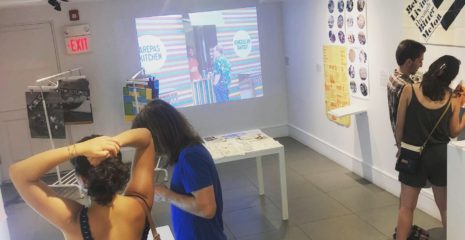 August 10, 1:00 PM–1:45 PM
Franklin Street Works is offering Spanish Language and American Sign Language (ASL) tours of our current exhibition Collective Action Archive: Redux. The exhibition features more than 30, self-described artist/activist collectives working in the US, including ABC No Rio, Codify Art, Ghana Think Tank, The Guerrilla Girls, Paper Tiger Television, RAGGA NYC,  and W.A.G.E.  – READ MORE ABOUT THE EXHIBITION
Elisabeth Schifrin will give Spanish-speaking tours and Franklin Street Works Creative Director Terri C Smith will give English tours.  Franklin Street Works is working with Source Interpreting for the ASL tours. Sign language tours will be available in English and Spanish. Tours are made possible with the support of the Department of Economic and Community Development through their ARTE Access grant. 
Thursday, August 8 – Lunch Tour
Spanish: 12:15 – 1:00
Saturday, August 10
Spanish/ASL: 1:00- 1:45
English/ASL: 2:15 – 3:00
Spanish: 3:15 – 4:00
LEE MAS – Spanish // READ MORE – English
RSVP required for ASL tours.
RSVP is not required for Spanish-speaking tours, but they help us plan.
To sign up, email Creative Director Terri Smith at terri@franklinstreetworks.org anytime or call or text her cell (203-253-0404) Tuesday – Friday between noon and 5pm.