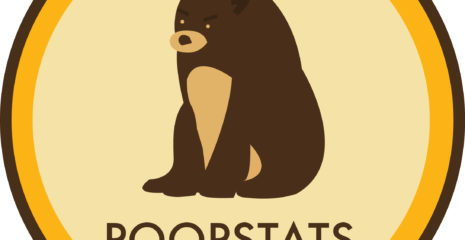 June 13, 5:30 PM–7:00 PM
Franklin Street Works presents an evening with two Internet entrepreneurs living in Fairfield County whose reach extends far beyond  the geographic boundaries of Connecticut. Young and dedicated, they have each developed a website that reflects their interests in the Internet's ability to organize and share data on a single subject. For EveryTornado.net, Sam Sagnella spent several years conceiving and building a website database project whose goal is to provide a broader insight into United States tornadoes by supplementing statistical data with first-hand event video gathered from those who were there. He will give a multi-media presentation, highlighting his efforts. For the second half of the talk, website designer and programmer Jeff Schram of Schram Industries discusses his experiment in gathering data from Twitter with PoopStats.com. His site investigates the phenomenon of people tweeting with the hashtag #pooping. This identifier indicates that the author is pooping while tweeting.  Schram programmed a site whose home page is in constant flux as the number of #pooping tweeters changes with the ebb and flow of this one thread of Twitter activity. With PoopStats, the quirky and curious can see how many people in the world are tweeting while pooping at any particular time!
Franklin Street Works named this exciting program S#!T/Storm: The Art of Data to reflect the themes, humor, and freshness of these digital thinkers and their projects! Through projected images, informal lecture, and performance, we will learn more about the thinking, logistics, and interfaces of these nascent websites. This free, public event takes place from 5:30 – 7:00 p.m. at Franklin Street Works on Wednesday, June 13.
EveryTornado.net is a unique tornado database project that includes riveting videos, allowing for site visitors to learn about the details of specific tornado events and  also to "witness" them. Since launching in August of 2011, EveryTornado.net has chronicled nearly 1000 tornadoes, and archived event videos for more than half of them. In the present-day social media world, the sharing of experiences has become a way for people to learn from what others have gone through without ever meeting them. EveryTornado.net captures people's recorded tornado encounters, and organizes them in a way that produces a dramatic perspective into what experiencing a tornado can be like. Featured videos come from every type of scenario: from storm chasers using their professional High-Definition video cameras, to commuters caught in traffic on the highway using smartphones, to people in their backyards with  family camcorders. Tornadoes have impacted every state in the country. Connecticut has been hit 79 times since 1950, with 12 occurring in the last six years alone. The Nutmeg State's 79 modern tornadoes have caused in excess of 300 million dollars in property damage and killed at least three people.
A more humorous approach to collecting data, PoopStats.com is the brainchild of web designer Jeff Schram, who splits his time between Stamford and New York City. With PoopStats.com, Schram created a homepage that monitors how many people are using #pooping while tweeting at any given time. According to Schram, "At any given moment, there are roughly 300-500 people #pooping on Twitter.  Seriously, we can't make this shit up," adding "PoopStats.com was created as a fun experiment to investigate this phenomenon of Twitter users adding #pooping to their tweets and the motivations behind people wanting to let you know the most private moments of their lives." In his presentation, PoopStats creator Jeff Schram talks about the inspiration and creation of the website, what he's learned so far, and what he hopes to discover venturing down this bold path.
ABOUT THE PRESENTERS
Sam Sagnella, a 25-year old Westport, Connecticut, native with a lifelong passion for weather, founded EveryTornado.net.  By his sophomore year at Staples High School he was enrolled in an "authentic science research" class, which allowed students to choose a project that interested them and invest school hours in researching it.  Sam's project "Severe Weather Preparedness of Fairfield County, Connecticut Towns" involved interviews with emergency management personnel from around the county, and its success led to an eventual presentation of his findings on live television through ABC affiliate WTNH-TV in 2003. After graduating from Staples in 2004, Sam moved to Oklahoma to continue to pursue a career in the field of meteorology, and began chasing storms there in 2005. It was during these next few years — during which he witnessed more than a dozen tornadoes — that the idea for EveryTornado.net was born.
Jeff Schram has been working in the web industry, based in NYC, for the last 7 years. Though he started off as an independent freelancer, he's recently enjoyed working alongside such companies as The Cutting Room, Modus Associates and Crush + Lovely. He combines his love of art, music and creativity with an in-depth knowledge of the inner-workings of the web and is the owner of Schram Industries, a web design firm.
This event is sponsored, in part, by Lamburt Corporation Insurance, Stratford, Connecticut, www.lamburt.com