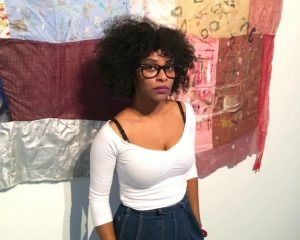 February 11, 4:30 PM–6:00 PM
UConn-Stamford Women's, Gender, and Sexuality Studies program and the not-for-profit contemporary art space, Franklin Street Works, present a talk by contemporary visual artist T.J. Dedeaux-Norris (fka Tameka Jenean Norris). Currently the Grant Wood Visiting Assistant Professor Fellow at the University of Iowa, Norris will give a free, public talk about her practice at UConn-Stamford campus in the MPR (Room 108) on Monday, February 11 from 4:30 – 5:30 pm with Q & A until 6pm.
Norris' multidisciplinary practice explores issues of race, poverty and social politics, drawing on her own experiences and relationships as an underlying narrative. A past exhibiting artist at Franklin Street Works, her work is indicative of  the conceptual and socially conscious art exhibited there and also often reflects intersectional feminist concerns and current scholarship around women's gender and sexuality studies. This is a rare opportunity to hear her give a talk on the East Coast in 2019.
T.J. Dedeaux-Norris was born in Agana, Guam and received her undergraduate degree at the University of California, Los Angeles before graduating with an MFA from Yale University School of Art in 2012. Norris has recently participated in numerous exhibitions and festivals including at Nasher Museum of Art at Duke University, Durham, NC; Yerba Buena Museum, San Francisco, CA; Prospect.3 Biennial, New Orleans, LA; The Walker Museum, Minneapolis, MN; Contemporary Arts Museum Houston, Houston, TX; and The Studio Museum, Harlem, NY, Rotterdam Film Festival, Rotterdam, Netherlands; Mission Creek Festival, Iowa City, IA; among many others. Norris has participated in residencies at the Skowhegan School of Painting and Sculpture, the Fountainhead Residency, and The MacDowell Colony. She is the 2017 recipient of a National Endowment for the Arts grant, a 2018 recipient of the National Endowment for the Arts Equity Fellowship at Vermont Studio Center and a tenure track Assistant Professor at University of Iowa.
This free, public program is sponsored by the UConn-Stamford Women's Gender and Sexual Studies program and Franklin Street Works not-for-profit contemporary art space.