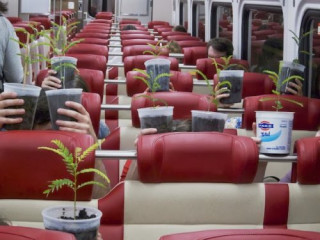 –
Franklin Street Works was recently awarded its second, two-year grant from The Andy Warhol Foundation for the Visual Arts. The competitive national grant was awarded to only 30 organizations in fall 2016 cycle, and, of the awardees, Franklin Street Works is the youngest not-for-profit to be included. The award will go toward the creation of Franklin Street Works' original exhibitions, support of emerging artists (including honoraria and professional support), and educational exhibition programming that is free and open to the public.
The Andy Warhol Foundation was established in 1987 in accordance with the artist's wish that funds from his estate go to the advancement of the visual arts. "The Foundation's grant making activity is focused on serving the needs of artists by funding the institutions that support them," according to the Foundation website, "Grants are made for scholarly exhibitions at museums; curatorial research; visual arts programming at artist-centered organizations; artist residencies and commissions; arts writing; and efforts to promote the health, welfare and first amendment rights of artists."
In its sixth year, Franklin Street Works continues to focus on emerging artists, rigorous curating, and creating a safe, discursive space for the local community to gather socially and to explore innovative art and exhibition practices. Already, Franklin Street Works has collaborated with 19 curators and exhibited more than 350 artists, including many who have gone on to exhibit their work at such prestigious institutions as The Whitney Museum of American Art and New Museum. Franklin Street Works will be working with five New York City- based guest curators in 2017 and 2018, originating six new group exhibitions around themes such as: shared strategies of the labor and LGBTQ movements; economic and political refugees; ways artists animate desire in abstract painting; art that explores political and personal paranoia; and more. In addition to receiving regional and national grants, the organization's work has garnered positive reviews in art publications such as artcritical.com, Artforum online, Art in America online, Art Papers, Bomb blog, Art New England, Hyper-allergic, and Modern Painters.