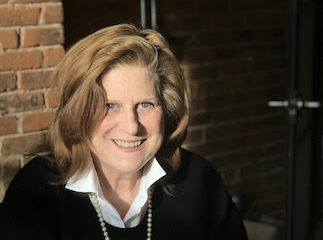 April 20, 1:00 PM–12:00 PM
Carole Southall became Franklin Street Works new Executive Director in February 2019. She has been a fundraiser for all of her professional life, coming to Franklin Street from Westport Country Playhouse, where she was Director of Development. There, Carole cultivated a three-million dollar donation — the largest gift in the Playhouse's history — which also served to launch its endowment fund. She was the frontline fundraiser responsible for more than half of the Playhouse's five million dollar budget. Prior to that, during her tenure with the National Parks, her passion project was leading the charge to raise the necessary funds for the Stonewall Inn to become an official National Park.
One of Carole's favorite quotes about her life's journey is by Ralph Waldo Emerson: "The voyage of the best ship is a zigzag line of a hundred tacks." Indeed, Carole's path has been one rich with unique histories and many nodes of interests that include the arts, social justice, and philanthropy.  These interests and experiences, in addition to her creativity and strategic vision,  will combine to inform her work as Franklin Street Works' executive director.  
Growing up in Texas and Missouri, Carole accompanied her parents in their organizing and activist work with migrant workers and in the civil rights movement during her youth. She then attended the University of Washington in Seattle where she studied printmaking with renowned African-American artist Jacob Lawrence, intending to enter the museum field.  Carole soon discovered a deep admiration for philanthropists and their role in the cultural life of the United States, and, instead, pursued a career in fundraising.
"I am delighted that Carole joined Franklin Street Works as our Executive Director," says Sharon Chrust, Franklin Street Works Board of Trustees President. "Her dynamic personality, strong track record in fundraising, passion for contemporary art and social issues, makes her uniquely qualified to grow our reputation and take us to the next level as a regional leader in the visual arts."
Carole lives in Wilton Connecticut with her husband architect Hermon Telyan. They are the parents of two adult children. When not working, her passions are painting, museum-hopping, and attending theater.
Welcome Carole!