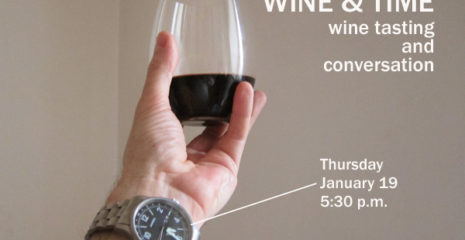 January 13, 5:30 PM–7:00 PM
Time is wine's friend and foe. Wine needs time to evolve from a fermented grape juice into nectar capable of soliciting a range of sensory responses. When neglected, wine can be ruined; and when crafted with a watchful eye to the clock, it can transcend the processes involved in its making. Wine and time have maintained a very complex relationship during the past eight thousand years, and this relationship continues to develop. Join host and wine enthusiast Anatoli Levine (creator of the popular Talk-a-Vino blog) for an informal glimpse into the complex relationship between wine and time! Gain insights into the delicate art of making and tasting wine while sampling some stellar varietals Thursday, January 19, from 5:30 – 7:00 p.m. in the cozy ambience of Franklin Street Works' café. This event is designed to complement our current exhibition, Slipstreams: Contemporary Artistic Practice and the Shaping of Time, which will be on view before and during the tasting.
To assist us with planning, Franklin Street Works invites interested parties to RSVP for this event at terri@franklinstreetworks.org. However, last-minute drop-ins are also welcome!