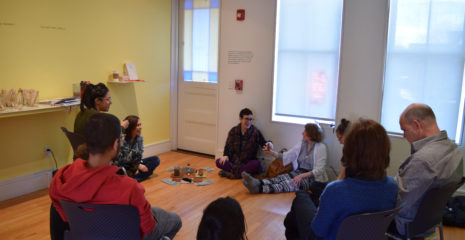 April 8, 3:30 PM–6:00 PM
"Witchcraft: a corporeal practice" with past exhibiting artist iele paloumpis is a participatory workshop where we will explore movement, ritual and visualization as pathways toward re-patterning stagnant energy. The event takes place at Franklin Street Works on Saturday April 8 from 3:30 – 6:00 pm. This is a free, public event, and RSVPs help us plan-  RSVP to terri@franklinstreetworks.org. Drop-ins welcome if space is available. This is one of several community programs developed for Franklin Street Works' current exhibition "Love Action Art Lounge," which is a group exhibition that features works that are generated from or encourage convivial social scenes, freedom of expression, and interpersonal connectivity.
Over the past few years, changes in dancer iele paloumpis' health and body shifted the ways they approached dance and daily life. Without concrete answers from doctors or various bodyworkers, they began looking to witchcraft and earth-based rituals as somatic practices of integration, acceptance and healing. iele also has considered how all bodies – whether elderly, disabled, or otherwise "different" – can enter into dance.
"The iconic symbol of the witch has recently made a comeback among younger feminists who are part of the current "fourth wave" of feminism," explains Franklin Street Works' Creative Director, Terri C Smith, "The term 'witch' was born in the 15th century from the idea of a threatening woman. My understanding is that this coincided with the printing press and pamphlets that were used to spread the falsity that these empowered women would be downfall of men.  Rather than seeing the witch as a negative or "evil" force, many of today's feminists/womanists look to the witch as a metaphor for female power, the outsider, a person who stands on their own terms and/or an individual empowered to harness nature and spirit to manifest change in the world."
For this workshop, participants will look to ritual, Tarot imagery, astrology and the lunar calendar, as well as their own unique and defiant bodies to generate restorative movement. Seasonal and astrological influences have a visceral effect on bodies, so participants will simply be tapping into what is already present. Come with an awareness of something you might like to shed, heal and/or embrace.
Workshop  participant, Yonah Adelman, reflects her experience with the workshop, "iele's facilitation of their Witchcraft – A Corporeal Practice workshop felt welcoming and affirming to my experience, identity and mental state. With their gentle and mindful guidance, I felt a sense of opening and release, which I experienced pretty viscerally in my body and through my movements…. The space they created felt transformative and I left feeling rejuvenated and hungry for more."
This workshop is for anyone interested in connecting to their bodies. There will be time to improvise and make movement, and the workshop is tailored to make sure folks get whatever they want out of the event. paloumpis adds, "If dancing or improvising feels intimidating/not right in the moment, participants can engage in other equally valid ways (i.e.: through writing, drawing, or observing). Overall, the goal during this workshop is to tune into our bodies in whatever ways feel good to us as individuals."