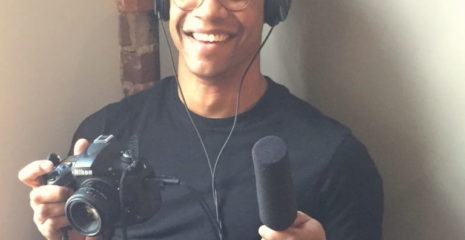 April 1, 3:00 PM–5:00 PM
"You, I, and Other" is a participatory workshop designed by artist Julian Phillips where the artist uses news, his experiences and a decontextualized stage play script to imagine new approaches in discussing topics around race and othering. Phillips uses these texts as tools for catalyzing conversations about how the "other" is thought of and addressed in discussions and for collectively exploring the subject of race at a personal and social level with workshop participants. The workshop is on Saturday, April 1, from 3:00 – 5:00 pm, and will be followed by casual reception in the Franklin Street Works' until 5:30 pm cafe where beer, wine, coffee drinks and more will be available for sale.
"After leading and having countless conversations about race through the years, I wanted to approach "talking" in a new way," explains Phillips, "My solution to preventing a dialogue that can swiftly collapse, was to propose a conversation as an artwork. I aim to liberate our discourse and shift it to a place of more understanding and honesty."
The workshop idea was sparked by a particular scene in a play Phillips read, and he began to imagine how the structure of a play could be used to bring about the same results of honest exchange in conversation. The artist's script is designed to free participants from the personalization of the ideas of race by using someone else's words. For the workshop, notecards provide simple prompts and participants finish the thoughts and turn them in anonymously. In the latest version of these conversational works, the artist is looking to open the conversation past the binary terms of black and white, making race an important component in this dialogue, but by no means the only one. The ultimate aim is to move the conversation closer to art and, in doing so, expand the possibilities of honest exchange.
Workshop participants will divide into groups, complete sentences proposed by Phillips, discuss perspective and language of their responses. Then everyone will gather as a larger group to determine how they want the scripts to be performed. Afterwards a discussion will take place on participants' experience.
ABOUT JULIAN PHILLIPS
Julian Louis Phillips is a New York based artist and photographer. He primarily inquires about social issues through, photography, video, and performance. The themes of race, identity, poverty, and religion are throughout his work. Generally his questions seek to find the persisting nature of societal problems and its constructs.
Phillips graduated from Saint Joseph's University, after studying Studio Art and Psychology. He is currently an MFA student in the Social Practice Queens program at Queens College. Phillips leads discussions and lectures on race and art throughout the northeast.