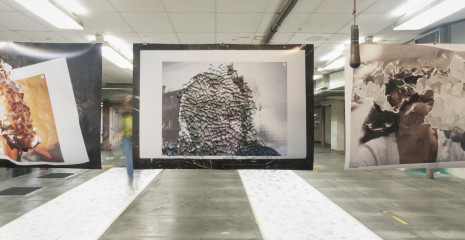 October 20, 2012 – October 21, 2012
Franklin Street Works programming includes on and off site collaborative projects. We were excited to be asked to collaborate with ArtSpace New Haven on a project as part of the City Wide Open Studios alternative space on October 20 and 21!
On view October 20 and 21 at the New Haven Register Building at 40 Sargent Dr., New Haven, Connecticut, Another Crystal Land is a group exhibition curated by Terri C Smith. The show simultaneously explores the crystal's structural characteristics/behaviors and its history within contemporary art. A starting point for the exhibition is the work of conceptual artist Robert Smithson, who was inspired by crystals, especially salt crystals, leading to his ambitious earth art work, The Spiral Jetty, 1970.
For the exhibition Another Crystal Land artists bring contemporary attitudes, technologies, and approaches to the mix of science/ science fiction references, shamanistic voices, and conceptual art making that Smithson explored in his work, making the crystal their own. Artists include: Debra Baxter & Margot Quan Knight, Ben Goddard, Chris McIntyre, Lucy Raven, Rob Smith, and Robert Smithson. A reading room of Robert Smithson books as well as poster-sized reproductions of critic/writer Ann Reynolds' "Crystal Land" text from her book Robert Smithson: Learning from New Jersey and Elsewhere will further contextualize this two-day exhibition, which is organically arranged throughout the industrial newspaper production site. This is a collaborative project between ArtSpace, New Haven, and Franklin Street Works, Stamford, Connecticut.
Exhibiting Artists
Debra Baxter & Margot Quan Knight, Ben Goddard, Chris McIntyre, Lucy Raven, Rob Smith, and Robert Smithson
Exhibition Curators
Terri C Smith