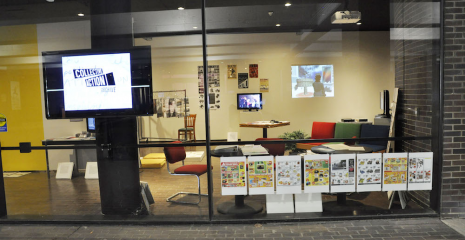 September 6, 2013 – September 29, 2013
The New Media program at Purchase College, SUNY and Franklin Street Works, a contemporary art space in Stamford, CT, will present a group exhibition, "Collective Action Archive," at Purchase College's The Passage Gallery, beginning September 6. Curated and coordinated by Purchase College faculty and students along with the Franklin Street Works team, the exhibition kicks off the 2013 season at the school's student gallery. The show features ephemera, documentation, and publications that include photos, videos, zines, and books from more than 30 artist collectives from across the U.S., including Chicago, New York, Pittsburgh, Winston-Salem, and San Francisco.
"Collective Action Archive" will be on view from September 6 – 29, 2013. A reception will take place in the gallery on Wednesday, September 11, from 4:00 – 6:00 pm, followed by a symposium at the Neuberger Museum of Art Study (also on Purchase campus) of Purchase College from 6:00 – 8:00 pm. Both events are free and open to the public. The symposium will include author, artist, and activist Gregory Sholette; along with a member of Working Artists and the Greater Economy (W.A.G.E.); and one of the founding members of the Knifeandfork collective.
The Collective Action archive began in 2012 with Franklin Street Works' call for materials, which was sent to more than 90 socially engaged artist collectives for the exhibition "Working Alternatives: Breaking Bread, Art Broadcasting and Collective Action" (October 27, 2012 – January 13, 2013). The Collective Action theme was inspired by Gregory Sholette's writing on the Political Art Documentation/Distribution (PAD/D) archive in his book Dark Matter: Art and Politics in the Age of Enterprise Culture). PAD/D materials — now housed in the MoMA QNS library collection —include a variety of printed items and photographs from socially and politically active collectives working in the 1980s. For the "Working Alternatives" exhibition, the curators considered what a call for materials (similar to art historian Lucy Lippard's PAD/D call in 1979) would yield. What could these new materials, gathered together, tell us about the strategies and organizational structures of politically active artist collectives more than 30 years later?
For the Purchase College redux, every collective in the archive will be on display simultaneously, with the majority of the items in the Collective Action Archive being featured. In addition to the greater breadth, the exhibition includes new items sent to Franklin Street Works in the last four months. Interpretive labels and a comprehensive gallery handout will augment the materials, contextualizing the work of these socially active artists who tackle topics ranging from fair artist compensation, to environmental responsibility and reproductive rights.
Collectives included in this exhibition are: ABC No Rio, Artists Against Apartheid, Big Tent, Conflict Kitchen, Critical Making, fierce pussy, Floating Lab Collective, Futurefarmers, Guerrilla Girls, Guffey Hollow, Howling Mob Society, Illegal Art, Just Seeds, Kitchen Sink, Knifeandfork, Lucky Pierre, M12 Collective, Meme Rider Media Team, National Bitter Melon Council, Okay Mountain Collective, Paper Tiger TV, Philly Stake, Preemptive Media, Publication Studio, Regional Relationships, Second Front, Students of the African Diaspora, subRosa, Temporary Services, The Pinky Show, W.A.G.E., and Work Progress Collective.
The "Collective Action Archive" exhibition team includes: Purchase College interns Stephen Barakat, Gina Mischianti, Bonnie Moncada, and Diogo Sales; Franklin Street Works staff members Sandrine Milet and Terri C Smith; and Brooke Singer, Associate Professor of New Media in the School of Film & Media Studies at Purchase College.
ABOUT THE SYMPOSIUM PANELISTS
Gregory Sholette: Gregory Sholette is a New York-based artist, writer and founding member of Political Art Documentation/Distribution (1980-1988) and REPOhistory (1989-2000). His most recent exhibition is Collectibles: Models, Action Figures, Objects (8/28-9/4) at Station Independent Projects, NYC, NY, and Imaginary Archive: Graz, Austria (9/21-11/2, 2013). The first chapter of his serial sci-fi graphic novel Double City appears in the Summer issue of Frieze, 201, and his recent books include Dark Matter: Art and Politics in an Age of Enterprise Culture (Pluto Press, 2010) and the co-authored book It's The Political Economy, Stupid with Oliver Ressler, (Pluto 2013). Sholette is a frequent lecturer and seminar leader in the US and abroad, he teaches at Queens College CUNY where he recently co-founded the Social Practice Queens master's concentration.
W.A.G.E.: Founded in 2008, Working Artists and the Greater Economy (W.A.G.E.) is a New York-based activist group whose advocacy is currently focused on regulating the payment of artist fees by non-profit art institutions and establishing a sustainable model for best practices between cultural producers and the institutions that contract their labor. Over the past 5 years they have delivered speeches, made videos, held open meetings, teach-ins, coffee klatches and workshops, wage-raging in panel discussions and symposia at museums, galleries, conferences, festivals, schools, summits, and art fairs. In 2010 they launched the W.A.G.E. Survey, which gathered data from visual and performing artists about their experiences with the payment practices of New York City non-profit arts organizations.
Knifeandfork: Brian House is a co-founder of Knifeandfork with Sue Huang. He is a media artist whose work traverses alternative geographies, experimental music, and a critical data practice. By constructing embodied, participatory systems, he seeks to negotiate between algorithms and the rhythms of everyday life. His work has been shown by MoMA (NYC), MOCA (LA), LACE, Ars Electronica, Eyebeam, Rhizome, Conflux Festival, ISEA, and Issue Project Room, among others, and has been featured in publications including WIRED, TIME, The New York Times, SPIN, Metropolis, and on Univision Sports. He is currently a doctoral student at Brown University in the Music and the Modern Culture and Media departments and teaches in the Digital + Media program at RISD.