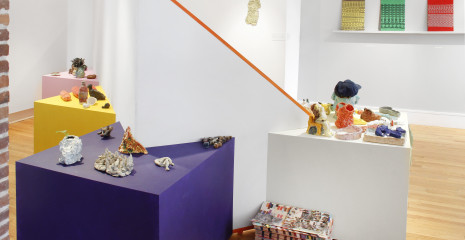 September 12, 2015 – January 3, 2016
"Initial Conditions: Artists Make Spaces" is a group exhibition that features alternative spaces initiated by some of Franklin Street Works' past exhibiting artists. As a not-for-profit whose mission and vision is largely informed by the alternative art space model, Franklin Street Works is celebrating the beginning of its fifth year by revisiting the "alternative" through artist projects that make new spaces. Works on view represent the activities of eight collectives or involved artists: Canaries, Ceramics Club (cc), Culture Push, La Casita Verde, Park McArthur and Constantina Zavitsanos, microRevolt, Regina Rex, and USELESS magazine. The show is on view from September 12, 2015 – January 3, 2016. Opening reception is Saturday, September 12 from 6:00 – 8:00 pm with a VIP members' preview from 5:00 – 6:00. Exhibiting artist Sarah Dahnke will perform "The Dance for Solidarity" during the reception.
Often times the initial condition of these spaces are not art centric, but instead are born from pragmatic, social or utopic impulses such as finding language for shared experiences, supporting an individual's physical needs, sharing resources, and creating new models for production or distribution. The creation of space here does not necessarily mean a fixed space either. Like Franklin Street Works, the alternative art space model often involves a dedicated building that serves as a foil to the dominant museum and commercial gallery offerings. Many of the groups in "Initial Conditions," however, do not have a fixed location or are using locations that, to quote exhibiting artist Park McArthur, "are already textured with other concomitant activities like people's homes and ceramic studios." The alternative spaces in "Initial Conditions" also include: a gallery space that is democratically run by eleven artists; globally located artists united through their use of a digital knitting program; and nomadically occurring programs and exhibitions that address autoimmune and chronic conditions.
The installations on view are created by artists and collectives for "Initial Conditions" and include: machine-made knitted wall works; ceramic-based objects by artists who usually work in a different medium and are exploring their inner amateur; choreographed dances for prisoners in solitary confinement; a magazine on culture and politics; community-produced handmade signs from a community garden in Williamsburg, Brooklyn; an artist-run gallery whose projects serve, in part, as an extension of the group's artistic practice; takeaway zines and newsletters; works around maintaining a sustainable, healthy body that resists being in service to capitalism; a library of books written by black female authors; a wearable sculpture that reflects how insects respond to emergencies; and texts and videos that examine and critique the model of monetary exchange and the power dynamics surrounding care.
This exhibition is sponsored in part by Fairfield County's Community Foundation, the Mertz-Gilmore Foundation, and the Connecticut Department of Economic and Community Development Office of the Arts.
Exhibiting Artists
Olaronke Akinmowo, aricoco, Trisha Baga, Clifford Borress, Jessica Sue Burstein, Lea Cetera, Jesse Cohen, Sarah Dahnke,Lucky DeBellevue, Corey Escoto, Taraneh Fazeli, Marley Freeman, Rochelle Goldberg, Dave Hardy, Zoey Hart, EJ Hauser, Nancy Haynes, Rebecca Watson Horn, Christine Kelly, Kathryn Kerr, Carolyn Lazard, Pam Lins, Sara Magenheimer, Cat Mazza, Park McArthur, Keegan Monaghan, Nick Parker,Krista Peters, Lucy Raven, Sam Richardson, Halsey Rodman, Elisabeth Sherman, Bonnie Swencionis, Katya Tepper, Conrad Ventur, Victoria Vreeland,Adam Welch, Constantina Zavitsanos, and Marina Zurkow.
Exhibition Curators
Terri C. Smith