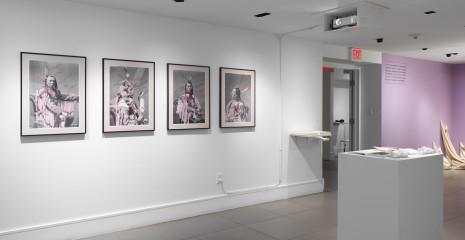 September 21, 2019 – January 26, 2020
On view from September 21, 2019 – Jan 26, 2020, Franklin Street Works fall group exhibition Otherwise Obscured: Erasure in Body and Text, is curated by Danilo Machado and explores how tactics of erasure can be used to uphold systems of oppression and colonization, but can also be counterpoints—artists can turn a subtractive act into an additive one, poke holes in the colonizer's language and logic, and queer temporal spaces and histories. Otherwise Obscured examines relationships between the erasure of text through redaction and illegibility and the erasure of bodies through policy and violence. The exhibition's title riffs on poet Ángel García's definition of erasure in the 2019 essay Lessons on Erasure. 
The intergenerational group of artists presented engage with a range of source materials—including government legislation, museum catalogs, and archival photography—to create work in video, audio, performance, poetry, and other media. The works in the show blur distinctions between obscuring and revealing, showing how acts of erasure can subvert notions of authority. 
Phil America, Peter Baldes, Bahar Behbahani, Hannah Black, Jesse Chun, Noelle de la Paz, Joey De Jesus, Alex Dolores Salerno, Francisco Eraso Jr., Noah Fox, Harmony Hammond, Jenny Holzer, Tony Lewis, Guadalupe Maravilla, Ana Mendieta, Oscar Muñoz, Niina Pollari, Pope.L, Wendy Red Star, and Jennif(f)er Tamayo.
Free, public programming for the exhibition includes:
Saturday, September 21 from 5-8pm: "PROMESA: SENTENCIA" – A Commissioned Performance by Joey De Jesus at the opening reception.
Friday, October 18 from 6:30 – 7:30pm: Curator Tour of Otherwise Obscured with Danilo Machado
Thursday, November 14 (visit event site for times): Poet Against Empire: A Generative Erasure Workshop with Candace Williams at UConn-Stamford and Reading at FSW.
Saturday, December 14 from 5-7pm: at Ferguson Library Main Branch: Artist Panel Exploring Materiality and Erasure in Contemporary Art.
Saturday, January 11 from 4-6pm:  Commissioned Multimedia Performance by artist Jennif(f)er Tamayo
Wednesday, January 22 from 1:30 – 3:00 pm: Verbal Description tour. RSVP terri@franklinstreetworks.org
Sunday, January 26 from 3:00 – 5:0pm: CLOSING PARTY! Poetry Salon with Sara Elkamel, Jan-Henry Gray, and Malcolm Tariq. Curator tour with Danilo Machado + Champaign, wine, and snacks.
Visit the Franklin Street Works EVENTS PAGE for more information.
Image: (detail) Oscar Muñoz, Re/trato, 2003, video