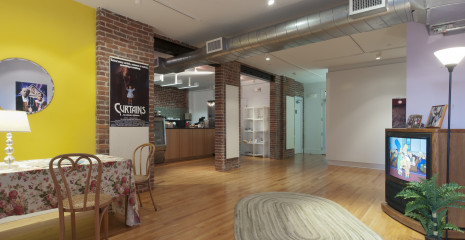 September 6, 2012 – October 14, 2012
The black VHS tape, a brick-like relic of the pre-digital age, is a dark talisman of analog video culture. Now a mysterious and outmoded technology that necessitates a physical ritual of loading the tape into the jaws of a temperamental VCR, the widespread marketing of a home video system of video cameras, recording decks, and cassette tapes in the 1980s represented a sea change in how individuals engaged with television.
VHS The Exhibition, which is the brainchild of guest curator Rebecca Cleman, will explore the use of this format for artistic experimentation. The exhibition will include works by Robert Beck, Sadie Benning, Dustin Guy Defa, James Fotopoulos, and Trevor Shimizu. Artworks will be accompanied by ephemera from '80s-era home video culture, such as the glitchy computer-generated, anti-corporate corporate spokesman Max Headroom, to give a broad perspective on the cultural shifts created by this technological phenomenon in entertainment, life, and art.
Artists have used video for personal ends since the release of the first consumer-grade video cameras in the 1960s. This equipment gave them a way to intervene and critique the hegemony of television, often by focusing on themes and subjects that were excluded from mainstream broadcasts. For many of these artists, it was important to characterize these interventions as alternative modes of professional production that could subvert the matrix of corporate television. A later use of amateur home video equipment could also be described as anti-television and countercultural – but the innately low quality of VHS, related to its mass-market appeal, further illustrates how artists self-reflexively work with antiquated technology to provoke art mythologies of value, authenticity, and permanence.
More than being formalist explorations of VHS's inherent qualities, the works in this exhibition engage the psychological associations of the medium, especially those that reflect the fragility of institutions, whether of self, family or society. The ability to watch TV shows on one's own schedule or to forego the broadcasters altogether to watch self-procured or self-produced content made the experience of television more private and interactive. Cleman adds, "As an alternative to sanctioned broadcasts, home video enabled the broad distribution of unwholesome entertainment, marking the VHS tape as a carrier of ungovernable, possibly even corrosive content. The ominous VHS tape of dubious origin, referenced in dark-themed films like Hideo Nakata's Ringu, David Lynch's Lost Highway, or the forthcoming horror film V/H/S, evokes an unconscious confusion of sex, violence, and death." Drawing connections such as these, Cleman positions VHS The Exhibition as an exploration of the cultural impact of home video on both a public and personal front. The exhibition will be on view from September 6 through October 14, 2012. A free, public reception is scheduled during the show's second week, Thursday, September 13 from 5:00 – 8:00 pm.
ABOUT THE CURATOR:
Rebecca Cleman is the Director of Distribution of Electronic Arts Intermix (EAI), NY. She has programmed screenings for the New York Underground Film Festival, Light Industry, Anthology Film Archives and the Migrating Forms Festival among other venues. In 2010 she co-curated the media content for Amnesia at Andrea Rosen Gallery. She has most recently organized two programs within the VHS series at the Museum of Art and Design, NY, and published an essay on the subject of horror movies and home video for the Moving Image Source. Cleman lives and works in NYC.
Exhibiting Artists
Robert Beck, Sadie Benning, Dustin Guy Defa, James Fotopoulos, and Trevor Shimizu
Exhibition Curators
Rebecca Cleman