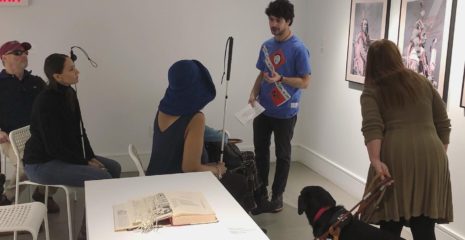 January 19, 11:00 AM–5:00 PM
Franklin Street Works received our second ARTE-accessible grant from the Connecticut Office of the Arts to fund existing and expanded accessibility initiatives.  Franklin Street Works is one of sixteen organizations in Connecticut to be awarded the grant for 2020 programming. 
Since opening in 2011, Franklin Street Works has cultivated nationally recognized exhibitions and programs while also nurturing a caring, grassroots space where everybody is welcome. Notably, we were described as "an oasis of humanity," by Huffington Post writer Perry Brass in 2017.
FSW began to actively broaden accessibility to our exhibitions, programs, and the physical space in 2016 when we successfully raised funds to complete our ADA compliant access ramp that runs from Franklin St. to the historic building's first floor back door. Inside spacious elevators (183 cubic feet) provide entry to all galleries. 
The 2019 ARTE-accessible grant provided funds for Franklin Street Works to give Spanish-language tours, verbal description tours, and American Sign Language (ASL) tours; to caption video documentation of educational programs; to translated exhibition interpretive texts and community outreach flyers; to open the galleries for more group tours; and to develop an Accessibility Statement for our current exhibition "Otherwise Obscured: Erasure in Body and Text," which is curated by Danilo Machado and on view through January 26. 
"We are thrilled to receive this grant for the second time," says Franklin Street Works Creative Director, Terri C Smith, "The FSW team has done a lot of research and community outreach in 2019 as part of the first ARTE-accessible grant. Because of this pilot phase, we now have identified talented folks to give tours, translate texts, and caption videos. Being awarded these funds for a second year lends continuity and enables us to gain traction on our initial community outreach, growing awareness of these programs and increasing attendance."  
Franklin Street Works 2020 ARTE-accessible grant funding will allow us to continue to grow our current offerings and incorporate new initiatives such as: way-finding signage to more easily direct people to the access ramp; a doorbell at the ramp entry door; extended hours for tours, including groups with special needs;  Spanish-language content for social media; and increasing the quantity and distribution of Spanish-language printed flyers. 
ABOUT THE GRANT 
First launched in 2018, the ARTE-accessible grant program is administered through the Connecticut Office of the Arts, which lives under the Department of Economic and Community Development. The grant's funding helps arts organizations be more accessible to their communities.
For more on small art spaces and accessibility – Recommended Reading: Accessibility in Arts: A Promise and a Practice